JH-Mech Kayak Storage Rack-Sturdy Stable Secure 2 Kayaks Paddleboards 175 Weight Capacity Dual Stand Freestanding Kayak Storage Rack
---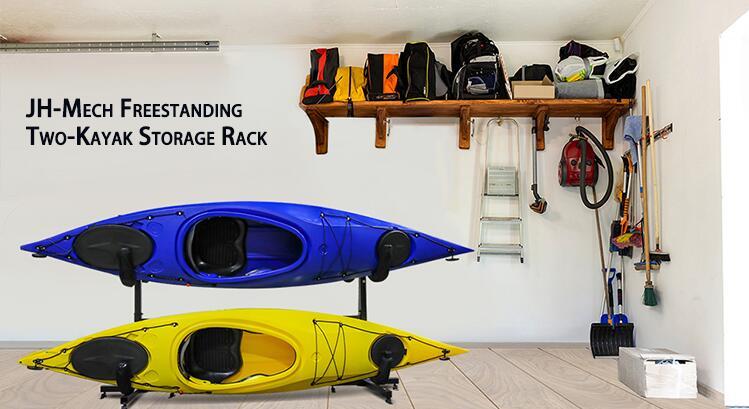 Constructed of heavy duty powder coated steel, this is a deluxe quality freestanding kayak rack is ready to withstand elements if you decide to use it outdoors.
What makes this Wall Racks Stand Out?
1. Ready for any kayak or SPB's on the market today, this kayak rack can hold up to 175lbs.
2. With the dual tripod bases, this rack is very stable, even in average wind conditions. For added security there are included hold down anchors to secure the rack in place on your floor, dock, or deck.
3. The heavy gauge steel arms feature protective padded sleeve to ensure your water craft will not be damaged from storage.
4. As an added bonus, the sleeves feature a UV protected nylon covering that will preserve and protect the sleeves for many years to come.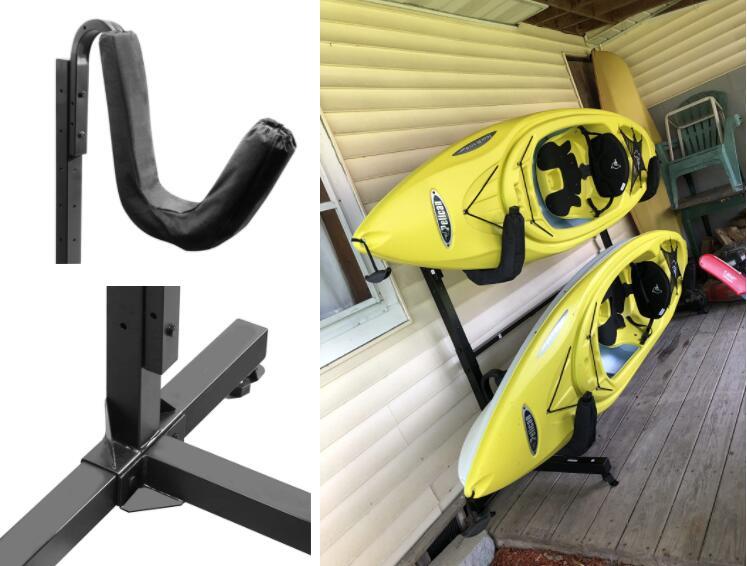 Freestanding Heavy Duty Kayak Rack Two Kayak Storage Stand is the ideal storage solution for your kayaks or paddle boards. With it's robust construction and stable footing, this rack will safely store two kayaks or stand up paddle boards is a small area of your garage, boat dock, or boat house. No more worrying if the kayak hanging over your car will fail.

A SOLID SOLUTION FOR KAYAK STORAGE
Heavy Duty Freestanding Kayak Rack Provides Secure, Reliable Storage for Up to [2] Individual Kayaks, Small Canoes, Paddleboards or Similar Water/Sports Equipment | Measures 52"H x 94"W x 26"D.
STURDY FREESTANDING DESIGN
Powder-Coated Stainless Steel Storage System is Lightweight to Handle But Super Tough | For Added Support, Base Can Be Permanently Bolted to Floor to Prevent Unwanted Movement, Tipping & Falling.
RUGGED TUBULAR METAL CONSTRUCTION
No More Wall Mounting or Hanging From Ceiling | Dual Tripod Base Easily Displays & Supports Gear Up to 175 Lbs.While Remaining Firmly Planted on Ground | Enjoy Max Stability on All Kinds of Surfaces & Terrain.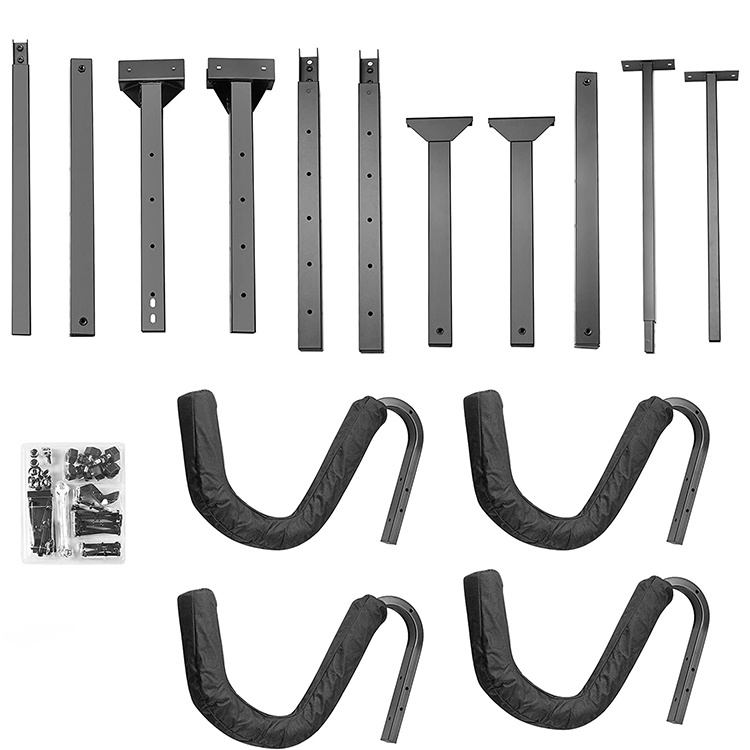 Item:
Freestanding Two-Kayak Storage Rack
Dimensions:
52" H x 94" W x 26" D
Storage capacity:
2 kayaks
Weight capacity:
175 lbs. (total)
Material:
powder-coated tubular steel
Arms:
Foam padded
Range of use:
Designed to hold two large kayaks, small canoes, wakeboards, surfboards, mini boats, paddleboards, and other similarly sized
sports and water equipment
Protection:
Durable felt padding lines the inside of each Wall Rack to protect the rails of your board from scratches.
Usage:
Saves space in your garage while safely organizing your gear. Perfect for Indoor Storage in Garage, Storeroom, Boathouse, Dock House or Deck
Place It Anywhere
The freestanding design lets you place the stand just about anywhere, it's easy to transport when you need to move it. The powder coated, all metal frame is rust resistant and suitable for outdoor use, and it easily mounts to your deck, dock, or boathouse floor if you want a permanent solution. When the season's over move the stand and your kayaks out of the
harsh winter weather.