JH-Mech Paddleboards Storage Rack Supplier-3 Paddleboards 5 SUP floor rack Heavy Duty Steel Frame Freestanding Floor Stand
---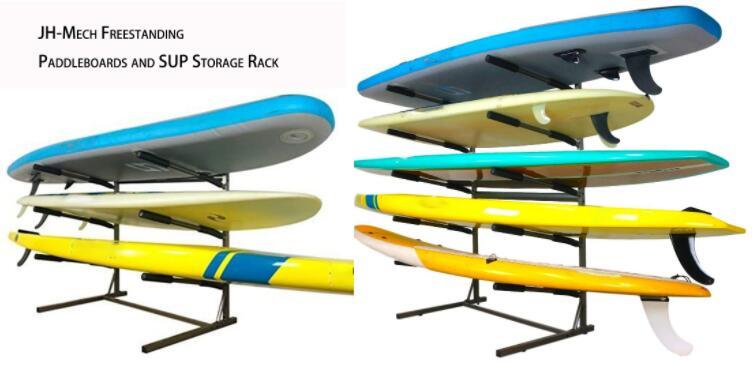 This freestanding rack for kayak paddleboard ans sup are easy to construct and use, it's strong, but lightweight enough to move if necessary, all of which you know because you designed it with a definite purpose and its very obvious. It looks good in it's designated home, and it's helped immensely in organizing and beautifying the space, making the space more than presentable to whomever might have to look that way.
What makes this Wall Racks Stand Out?
* Freestanding SUP storage rack sits on floor, no mounting to walls required
* Storage for 3-5 paddleboards - Surf, Yoga, Touring, Race, Inflatable, and more styles of SUPs
* Heavy duty steel frame holds paddle boards up to 40 lbs per rack level and 200 lbs total
* Ideal for home storage in your garage or on your deck, or at your retail or rental shop
* Arms remove with the click of a push pin for mount maneuverability and storage flexibility

This freestanding rack can be sued in paddle board shop. It works great. Light, yet sturdy, and pieces together easily with tools included. On short nap carpet it can be moved easily even when loaded. You can use them free standing and
against windows (displays great). That ability to place "arms" flat or at an angle is nice feature.

Free standing model
no mounting to walls required
Store 5 paddleboard
Surf, Yoga, Touring, Race, Inflatable, and more styles of SUPs
Heavy duty
holds paddle boards up to 40 lbs per rack level and 200 lbs total
JH-Mech Mutil Paddleboard Storage Rack

| | |
| --- | --- |
| Item: | Freestanding 3 or 5 paddleboard kayak Storage Rack |
| Dimensions: | 49" wide x 35" deep x 67" tall |
| 2Storage capacity: | 3 stand or 5 stand |
| Weight capacity: | 200 lbs. (total) |
| Material: | powder-coated tubular steel |
| Arms: | Foam padded |
| Range of use: | Designed to hold two large kayaks, small canoes, wakeboards, surfboards, mini boats, paddleboards, and other similarly sized sports and water equipment |
| Protection: | Durable foam tube production of each Wall Rack arm to protect the rails of your board from scratches. |
| Usage: | Saves space in your garage while safely organizing your gear. Perfect for Indoor Storage in Garage, Storeroom, Boathouse, Dock House or Deck |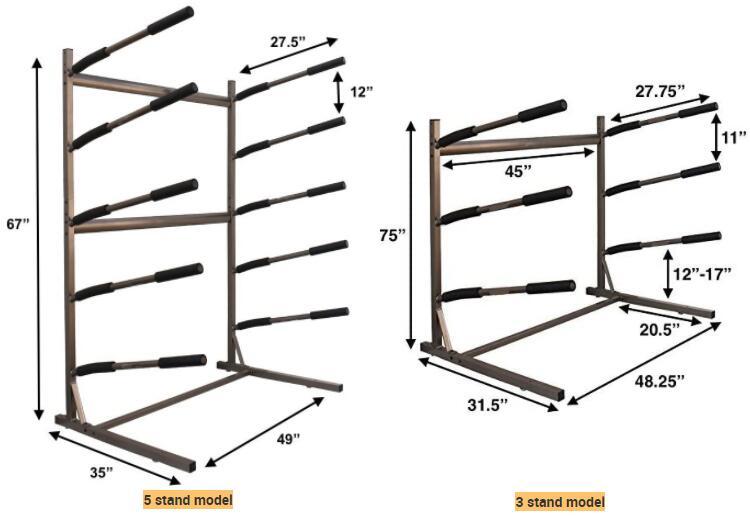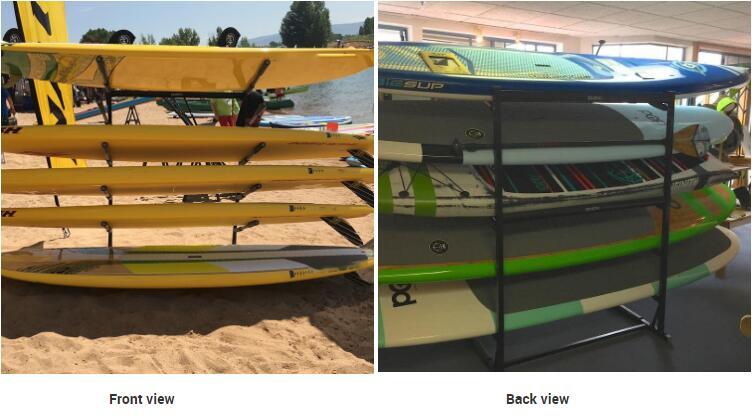 Indoor and outdoor storage
Ideal for home storage in your garage for winter storage or on your deck, or at your retail or rental shop