JH-Mech Street Road Signs Supplier-Road School Traffic Safety Sign Making Machine Traffic Aluminium Rail Sticker Warning Boards Street Road Signs
---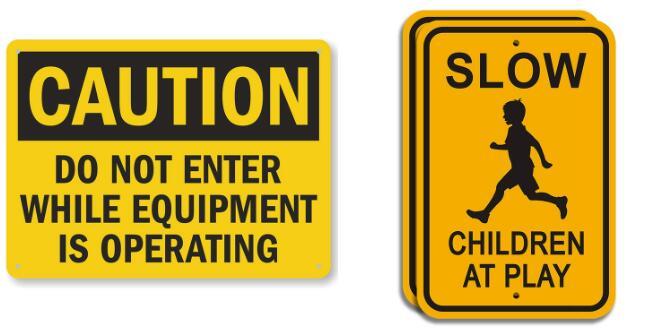 Product description
* The "Stop Sign" design with simple white bold letters on the red reflective plate draws people's attention to its content. 2 pre-drilled holes at the top and bottom for easy mounting on any surface including walls, fence, post, poles and gates. Reflective signs illuminate when struck by light from headlights or any other source and is hard to ignore. This makes the message readable even in the dark .
Metal Sign Specification

| | |
| --- | --- |
| Product Name: | Custom printed road safety warning temporary traffic speed sign |
| Style: | Reflective Signs or Non reflective warning signs |
| Country of Origin: | China |
| Material: | Reflective sheeting + Aluminium Plate |
| Color: | Yellow/red/blue+white/orange/custom |
| Used: | Traffic Control Signs, Safety Signs, Warning Signs |
| Feature: | Strong Aluminium, waterproof, not rusty, long service life. |
| Size: | 12" x12" x 0.04" Metal sign |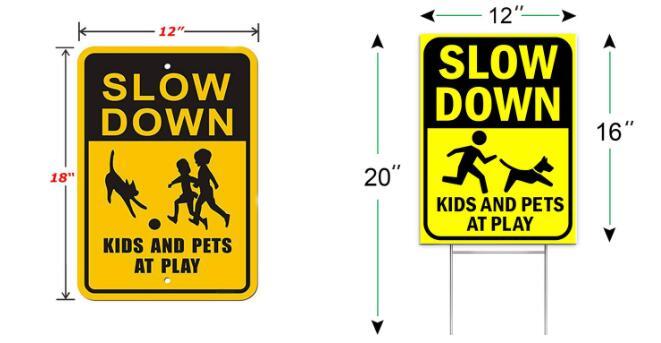 Heavy-duty Aluminum
Sturdy and Durable Rust-Free Aluminum material Thicker than the competition.The thickness is 3MM.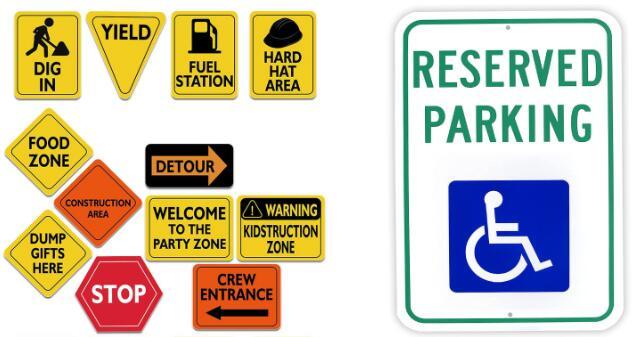 * DURABLE ALUMINUM*
Our Heavy-duty rustproof aluminum signs can withstand inclement weather without fading. Outdoor service life up to 7 years.
* EASY INSTALLATION*
All signs come with rounded, burr-free corners and 3/8 inch punched and pre-cleared holes. Signs mount to U-channel posts, square or round galvanized posts, wooden posts, and chain-link fences.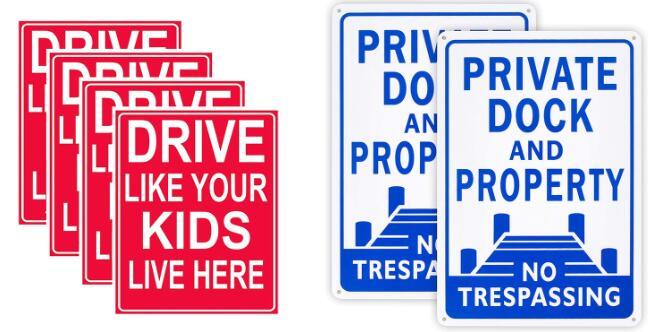 Different road need different grade of reflective materails
For highway, may always use diamond grade or HIP reflective sheeting.
For city road, HIP or EGP grade reflective sheeting will be good enough.
For country road, most people would like to choose commercial grade reflective sheeting.
Laminated Protection
With lamination, graphics are protected from weather and abuse to preserve a fresh look. Graffiti can be cleaned off too. Clear UV laminate resists chemicals, UV rays, water, and abrasion.
3M Authorized
Signs use official 3M Reflective Engineer Grade film and are printed with 3M screen printing or 3M outdoor digital inks designed specifically for outdoor traffic and property signs - providing ultimate quality and assurance.
Application scenarios
Sometimes we see the signs like this one is the park or on the private road, and it warn us "no turn around at the end of road", we can see it clearly enough to improve our security.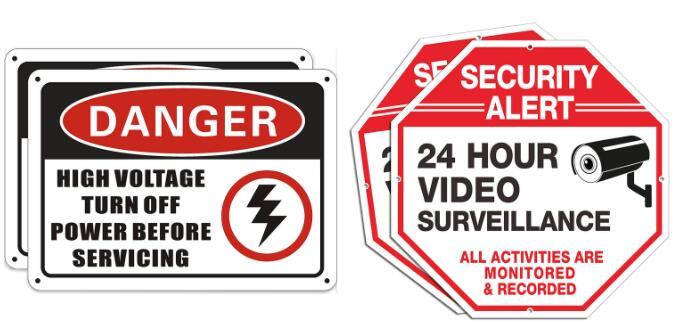 Photoluminescent Surface
This Sign adopts the reflective material. After being illuminated by the light, the sign can be reflected when struck by the light because the light refraction principle.
Easy to Install
No Smoking Sign aluminum sign has 2 pre-drilled holes and can be easily mounted on every surface.
JH-Mech Sign Supplier

| | | | |
| --- | --- | --- | --- |
| Brand | JH-MECH | JH-MECH | JH-MECH |
| Material | 0.40 Heavy Aluminum | 3M Engineer Grade Reflective Sheeting Aluminum | 3M Engineer Grade Reflective Sheeting Aluminum |
| Size | 12" x 12" | 18" x 18" | 24" x 24" |
| Item Thickness | 0.04inch | 0.06inch | 0.08inch |
| UV Protected | ok | ok | ok |
| Fade Resistant | ok | ok | ok |
| Indoor/Outdoor Use | ok | ok | ok |
| Reflective Coating | ok | ok | ok |
| Waterproof | ok | ok | ok |